01179 591190

Underfloor Heating
Mec – Serv Ltd have been recognised by the selection and installation of many diverse wet and electrical systems in a variety of buildings and environments.
We provide a variety of services from design stage, producing bespoke systems to suit client requirements through to installation and completion of projects with our in-house screeding division.
Mec – Serv Ltd are specified throughout the country by consultants, architects and local authorities and recognise that no contract can be successful without strong partnerships for delivery. As well as client relations we have developed and expanded relationships with our supply chain partners giving us the highest level of service and providing us with the opportunity to price very competitively.
Mec – Serv's reputation has been built on our core values of client care and quality, above all we recognise the issues facing contractors and address these to create a unique approach to our client's needs.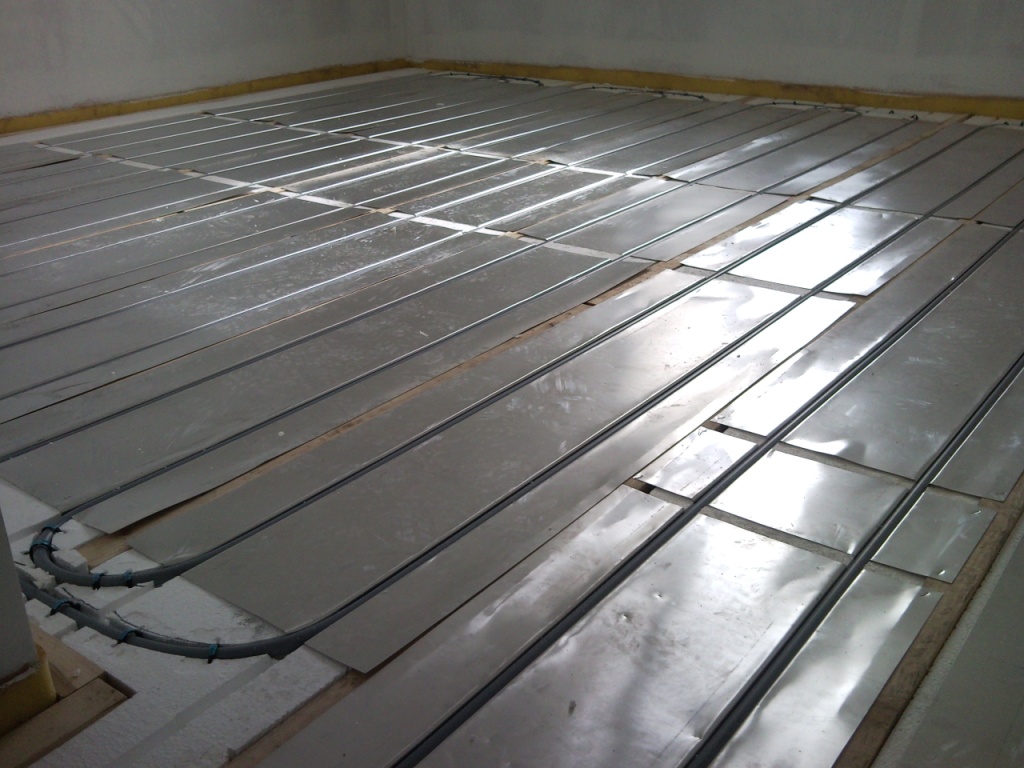 Timber and joisted floors
Mec - Serv can offer a variety of underfloor heating application within a joisted and timber batten
floors.
Mec-serv joisted floors comprise of utilising an aluminium metal diffusion plate the only true reliable
system to achieve outputs of upto 75wm2 within a joisted floor. Various types of insulations at
varying depths can be installed to fit in-between various widths of battens. The usual standard joists
are set at 400mm centres so our underfloor heating can run in-between the joists at 200mm centres
within the aliminimum metal diffusion plate that disperses the heat through he floor above. The
aluminium metal diffusion plate is in constant contact to the floor above achieving maximum
outputs required by the client.
Please find below a variety of joisted applications. More can be issued upon request or designed to
suite any floor application.
Fully floated timber floor –
On many floor a screed application cannot be undertaken due to weight due to building
structure or floor finishes. Mec – Can provide install a fully floating floor system
comprises pre grooved ESP70 – ESP250 polystyrene floor insulation pre routed at
either 150mm or 200mm centres to have a Mec – Serv pre-grooved metal diffusion
plates installed within the groove into which the 16mm,18mm or 20mm underfloor
pipework is fitted.
The floor detail of insulation plate and pipe are installed to cover the complete floor
area so a floor can be laid directly on top of our detail giving our client a very cost
effective and quality heating installation. Usual flooring installed above our detail will
generally consist of chipboard, plywood or recommended by Mec – Serv flooring panels
such as Fermacell which have excellent thermal properties and can achieve outputs of
upto 75wm2.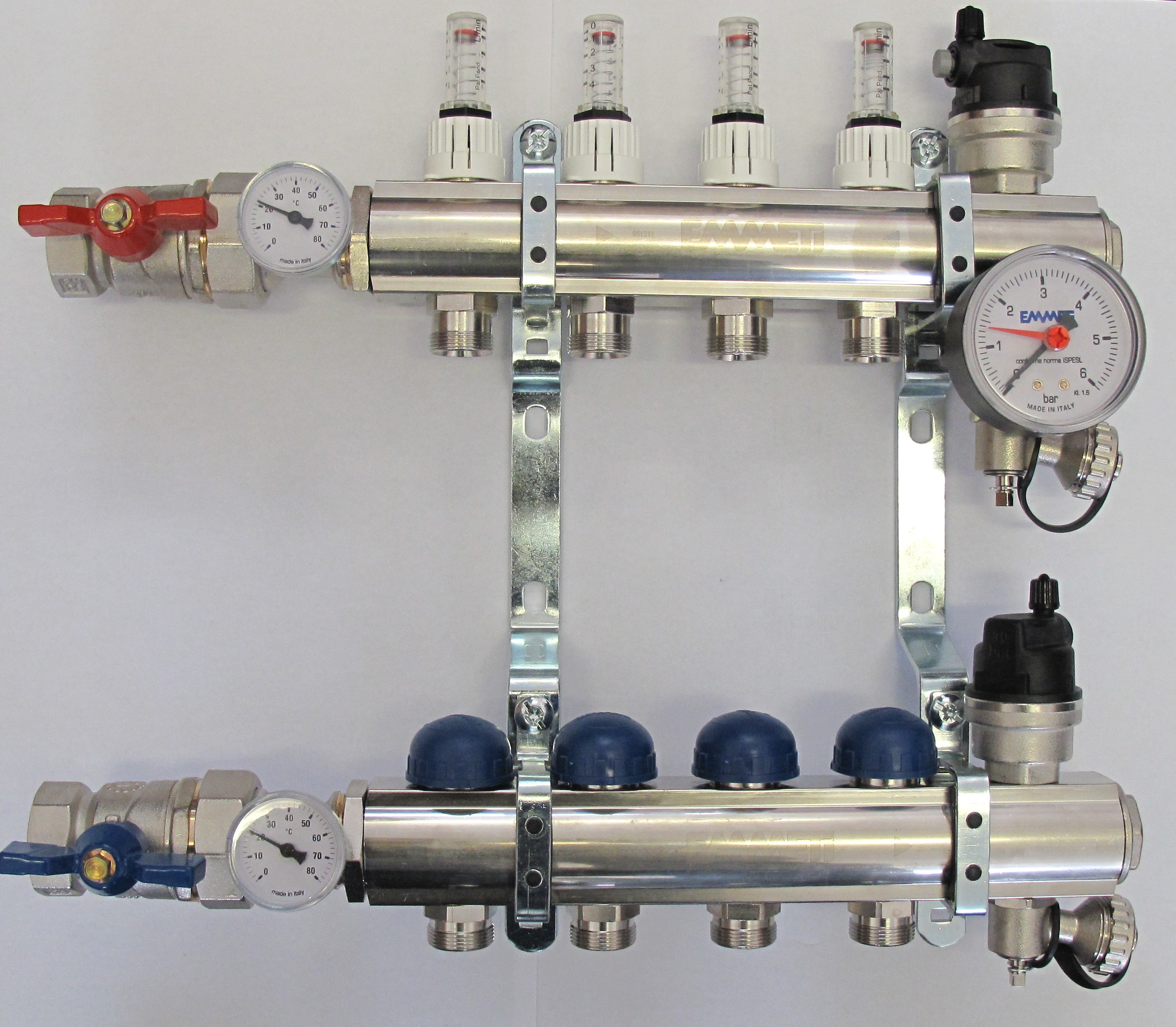 Mec – Serv Ltd Manifolds
Mec-Serv Manifolds are highly adaptable and are available with or without a 3 port mixing arrangement.
Manufactured from nickel plated brass under ISO 9001 quality controls Mec-Serv Ltd have manifolds have been BBA tested in conjunction with Mec-Serv's Signature pipe to provide a reliable & robust system.
Manifolds which utilize the 3 port mixing valve arrangement are supplied with the latest A rated pumps and are primarily used where the water temperature supplied to the manifold exceeds that required within the underfloor heating system. The 3 port valve is set to a predetermined temperature (calculated in the design process). Once in operation the valve modulates to allow varying amounts heated water to blend with the cooler water returning from the underfloor heating loops there by obtaining a stable predetermined operating temperature.
Manifolds without the injection system are modified during assembly to allow water to circulate directly from the heating system without blending with the cooler returning water. These types of manifolds are mainly used in conjunction with ground and air source heat pump systems or where water temperature is mixed centrally.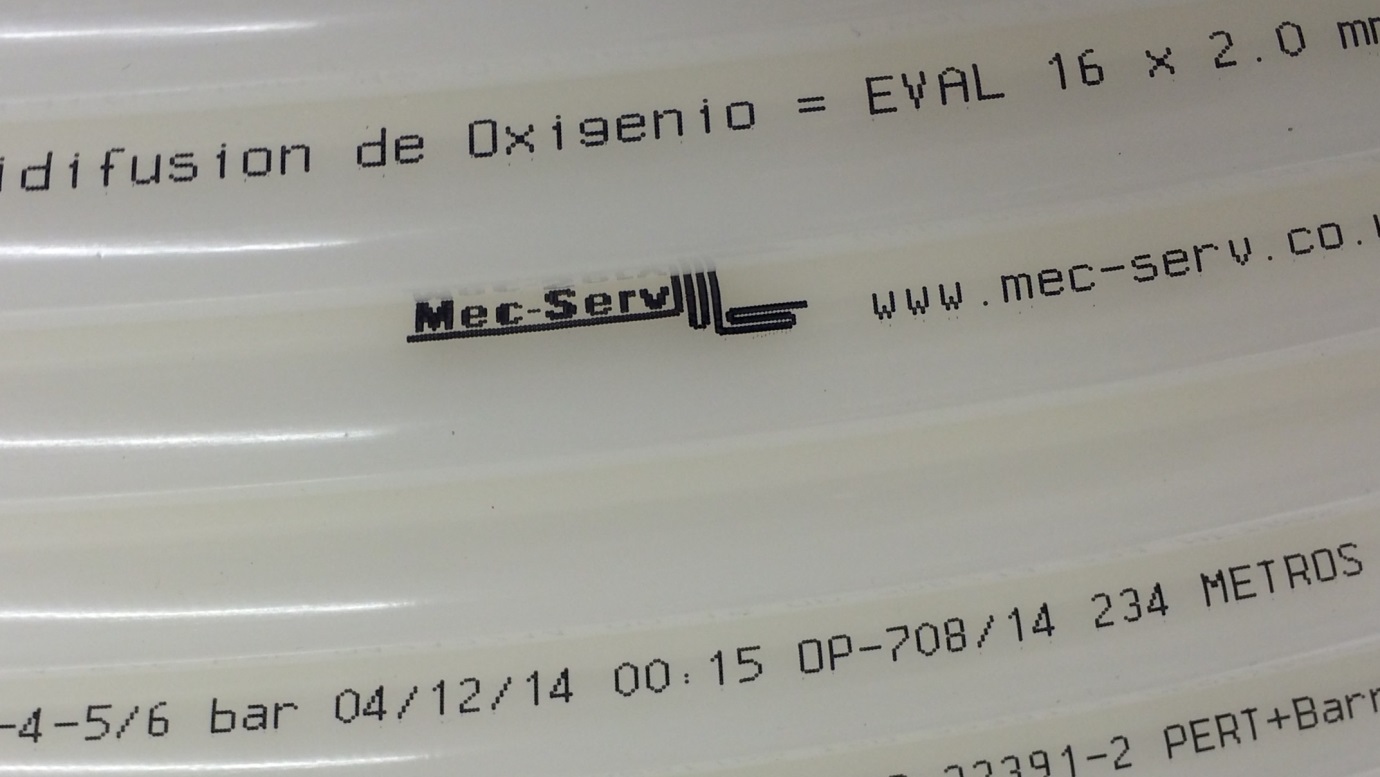 Mec-Serv Ltd Signature (Type 2) PE-RT pipe with integral oxygen barrier is manufacture using DOW Chemical Groups market leading, commercial grade Dowlex 2388 polyethylene resin. Produced within the EU to BS EN ISO 22391 under ISO 9001 quality control Mec-Serv pipe also benefits from a 50year manufactures warranty.
Available in 20x2mm & 16x2mm Mec-Serv Pipe is suitable for applications both commercial and domestic.

Where Specifications require Mec-Serv systems can also utilise a number of other pipe options including PE-X, Pb and multi-layer pipes all fully warranted and manufactured to the relevant BS EN Standards.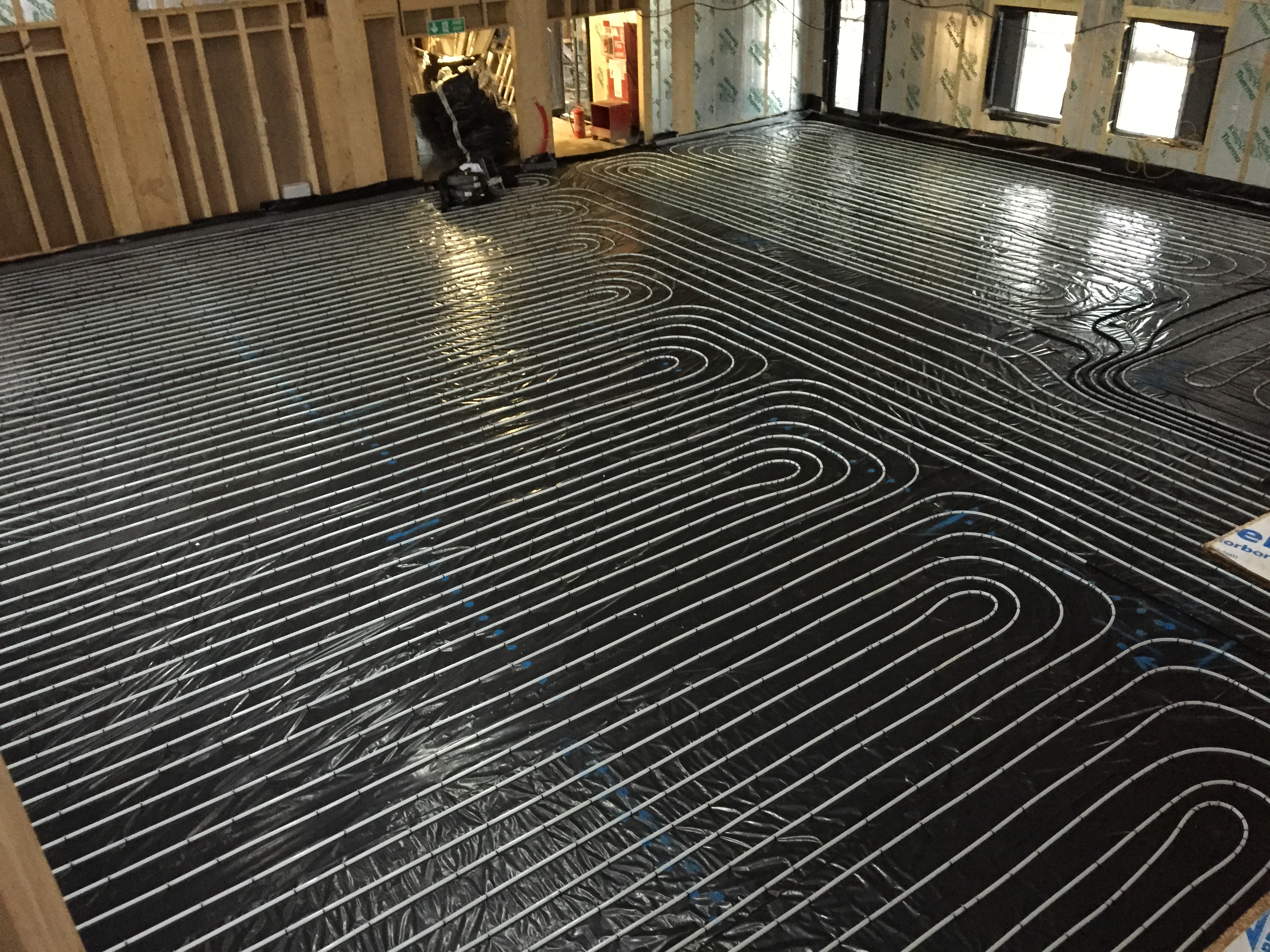 Mec-Serv Ltd Underfloor Heating – Tacker System
The Tacker system is the most widely used system within the underfloor heating industry and is used in conjunction with both sand and cement (min depth 65mm) & flowing (min depth 50mm) floor screeds.
The term tacker in its self refers to the method of fixing the pipe work, which involves tacking the pipe down with a tacker gun which fixes a barbed polypropylene horseshoe clip over the pipe and into the floor insulation,
The tacker insulation most commonly an expanded polystyrene or EPS (although PUR insulation such as Celotex or Kingspan can be used with a polythene layer) is laminated with a gridded polyethylene hessian weave which holds the barbed clips in place and prevents the pipe work from moving while installation and screeding is taking place, the grid is used to aid pipe layout and spacing and also acts as a separating membrane between the insulation and screed.
Edge insulation is also fitted to all perimeter walls to prevent perimeter heat loss through cold bridging and allow for expansion within the screed.
Pipe loops are connected to the manifold and the system is pressure tested ready for screeding.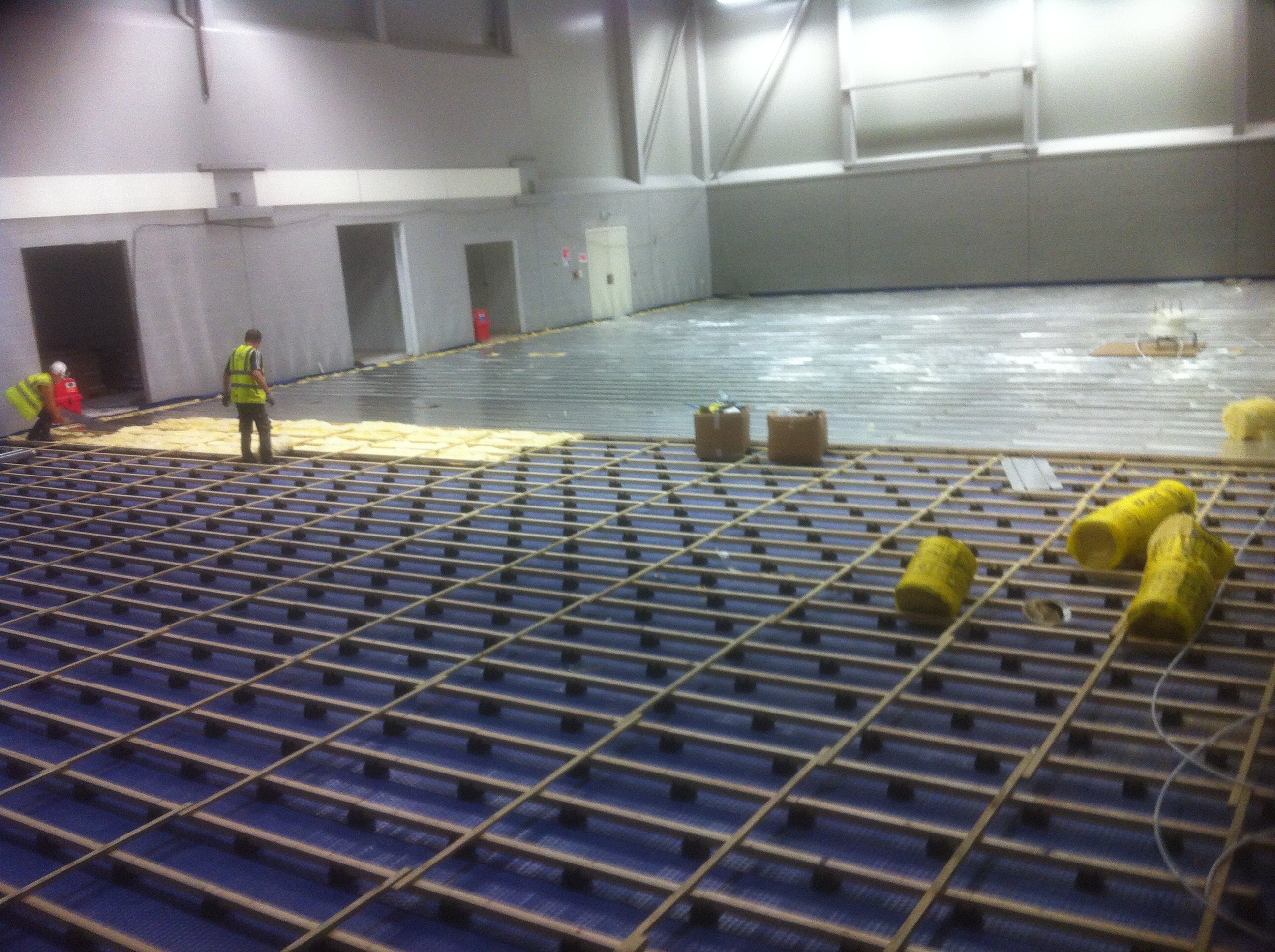 Mec-Serv Ltd Underfloor Heating and Junckers New Era Uno-Bat Sprung
The Juncker New Era Uno-Bat floor is a sprung flooring system most commonly used in sports and fitness halls.
The underfloor heating pipes run in a grooved aluminium heat diffusion plates to spread the heat evenly through the floor and give a maximum output of 75W/m² without exceeding the maximum 27°C surface temperature of any timber floor.
The aluminium heat diffusion plates are fixed to the soft wood battens and supported by a soft roll insulation, if the system is to installed on a ground floor and a greater U value is required a polyurethane board and damp proof membrane can be used, although a hardboard layer is advised to protect the 'DPM' from being damaged by the cradles.
Due to the size of the soft wood battens, notching is not advised, a 30mm gap should be left where the batten meets the perimeter wall to allow the pipe to turn back on itself.
Transit pipe work running to and from the manifold should run beneath the soft wood battens so as not to compromise the integrity of the structure.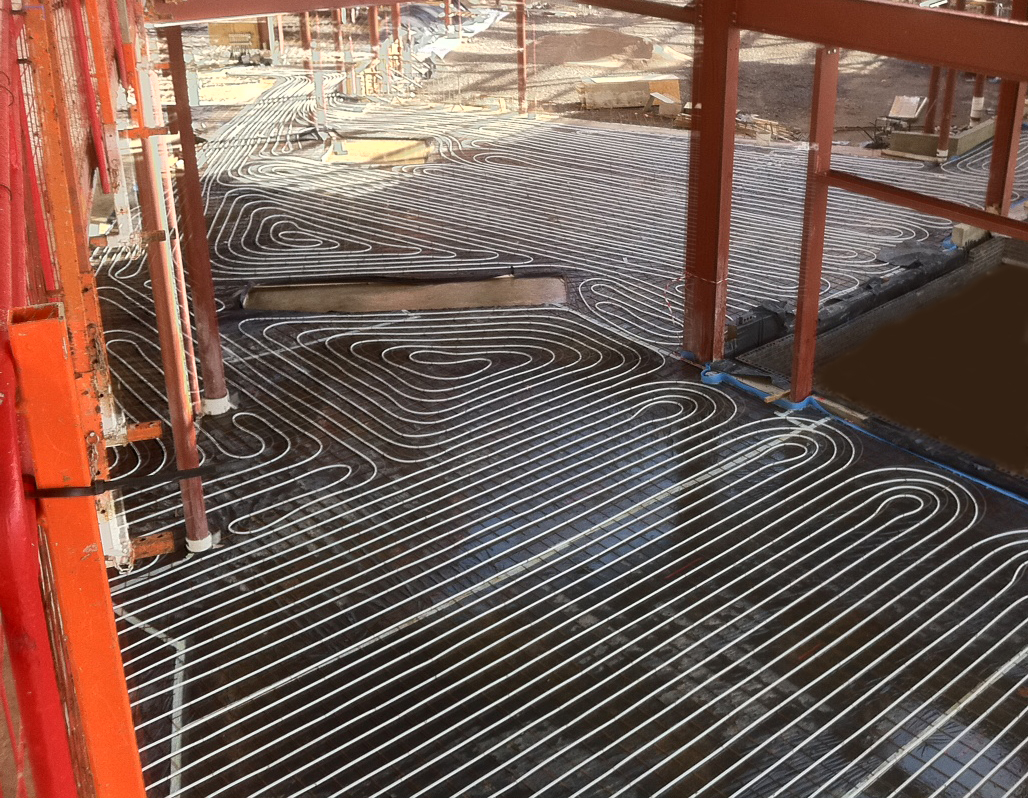 Mec-Serv Ltd Underfloor Heating – Structrual Concrete Floor System
Mec-serv Ltd Systems can be incorporated within load bearing structural floors in a variety of applications from factories and warehouses to sports complexes and prisons.
In these applications the UFH pipework is secured in the required configuration and spacing to the reinforcing mesh within the concrete using plastic or wire ties, once secured and pressure tested the concrete can be poured encasing the pipework.